Seek through good quality raw water,
we reached HAKUBA Village.
Country with high quality natural water – HAKUBA
< Nature-made water purifying system by HAKUBA> The western mountains rise straight up in HAKUBA, is peak at over 3,000 meters. The wet atmosphere was sucked up by the Fenn phenomenon. And the finely textured clouds formed in the good atmosphere of HAKUBA, will bring rain to HAKUBA.
Since then the rainwater seeps into silicon containing hard rocks for years, and it has become high quality, sufficient groundwater of HAKUBA. In addition, the clay layer, which is about 50 meters underground, prevents groundwater contamination and forms a pollution control layer created by nature.
Eruption of dense, high-quality water that is a mixture of stored high-quality water and slab origin water.
What is Slab origin water?
The water contained in the crust of tens to hundreds of kilometers deep underground that has been pumped up to the ground surface by crustal movement.
Water gushes from good groundwater becomes clouds in western mountains, and rain again. Through the extensive natural circulation system created by topographical features of HAKUBA, water is circulated, and a natural mechanism has been developed to maintain high-quality natural water. It is HAKUBA that receives the hull benefits of nature from the crustal movements and keeps good quality water resources circulating at all times.
HAKUBA's unique topography in the world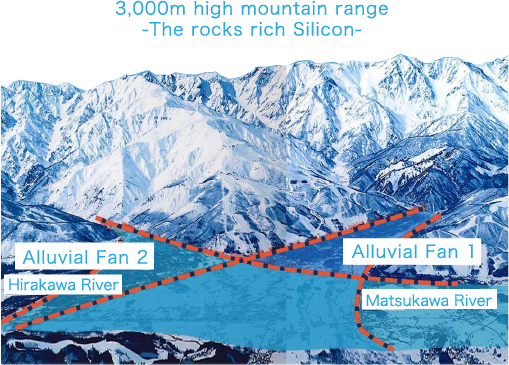 High mountains including rich silicon
    =
・Hard bedrock
・If the earth's plates move, the mountains can grow even higher
・Water is purified as it seeps though